Cole County Health Department shares COVID-19 supplement recommendations | Newsroom
1 min read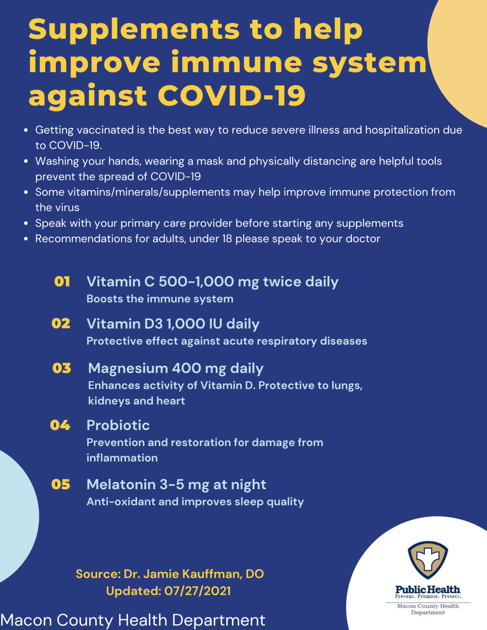 The Cole County Health Department is sharing information about supplements and over-the-counter medications that may help in the fight against COVID-19.  The recommendations come from Dr. Jamie Kauffman, who shared the information with the Macon County Health Department.
Kauffman recommends taking Vitamin C, Vitamin D3, magnesium and a probiotic to boost your immune system.  Taking melatonin at night is also recommended.
If you are exposed to COVID and isolating at home, Kauffman recommends taking Pepcid and Mucinex twice a day.  Taking zinc and quercetin is also recommended.  Kauffman says taking a Vitamin B complex, an Omega-3 supplement and eating potassium rich food can help improve post-COVID syndromes.  Kauffman also recommends tummy time – laying on your stomach for 30-120 minutes 2-3 times a day.  The doctor says that can lower one's risk for intubation.  Other recommendations include deep breathing and walking.
You can see the recommended doses by viewing the attached pictures in this story.
All these recommendations are for adults only and should be discussed with your primary care physician.
The state's positivity rate for COVID-19 is 13.3%.  Over 11,000 new COVID-19 cases were reported statewide last week, along with over 3,000 probable cases.  48 new deaths were reported, though some of those may have been delayed reports from past months.  7 deaths were recorded in Cole County for the month of July.  47% of Cole County residents have received at least one dose of the vaccine.  The statewide figure is 51%.