$10.4 Billion Self-improvement Market Pivots To Virtual Delivery During Pandemic
4 min read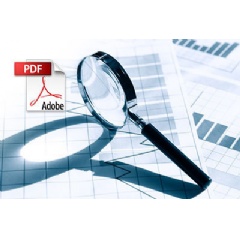 July 26, 2020:  Marketdata LLC, a leading independent market research publisher since 1979, has released the 13th edition of one of its best-selling studies, a 333-page report entitled: The U.S. Market For Self-Improvement Products & Services .  This is the ONLY publicly available study about this huge billion business. The study traces the market from 2003-2025 Forecast, examining these markets: Infomercials, Holistic Institutes, Self-Help Books & Audiobooks, Motivational Speakers, Training Organizations, Apps, Public Seminars, Personal Coaching, and Weight Loss Programs.
"Many of the well-known motivational speakers in the business have been dying, retiring, or are aging and are cutting back their live events and exposure. These people have been the backbone of the market for 30 years or more. Of the 17 top-earning motivational speakers, 12 are in their 60s or older.", according to John LaRosa, Research Director.
Major Findings:
* Marketdata estimates that the U.S. self-improvement market was worth $11.6 billion in 2019, and that it contracted by 10% to $10.5 billion in 2020. Marketdata forecasts a 7.7% rebound in 2021, to $11.3 billion, and forecasts 6.0% average annual growth to $14.0 billion by 2025.

 

* The live events business is hurting. Success Resources America appears to be holding only virtual events. Attendance at live events plummeted last year, due to the pandemic and recession of 2020. Marketdata estimates that this market fell by 24% in value during 2020, to $208 million.

 

* The infomercial channel has become less important as a distribution vehicle. Less and less self-improvement programs are being sold here, other than exercise equipment and weight loss programs. Infomercials as a medium generated $1.65 billion in sales of self-improvement products and services last year, up 12.6%.  More than 90% of sales, however, came from soaring sales of home exercise equipment such as Peloton, Tonal and Mirror, and commercial weight loss programs such as NutriSystem and BeachBody.

* Personal coaching… The latest ICF global coaching study found that the U.S. personal coaching market was worth $1.29 billion in 2019 and Marketdata estimates this to have declined 8.5% to $1.18 billion in 2020.

 

* Self-improvement books… While the overall American book publishing market posted a banner year last year, that was not the case for self-improvement titles. Contrary to 2019, there were no significant personal growth or weight loss titles in 2020. They were eclipsed by titles having to do with politics and the Black Lives matter movement. Marketdata estimates that the market was essentially cut in half in 2020, to a value of $550 million.

 

* The self-improvement audiobooks market grew strongly last year, up an estimated 20% to $541 million in 2020.  This market benefitted from the boom in print book sales last year, as consumers turned to books while they were at home during lockdowns.  Self-improvement titles did well and increased their share of the market.

 

* The public seminars business was hurt by the pandemic and recession, due to its primary operating model of in-person events. Revenues in this market segment were down about 24% to $208 million in 2020.

 

* The 16 major holistic institutes in the country were devasted by the pandemic and lockdowns in 2020. These facilities count on in-person workshops, seminars, and retreats, and most were closed for most of the year. Some were able to pivot to virtual events, but the revenue decline was a major one never experienced before.

 

* The motivational speaking market was hit hard in 2020, as in-person events were cancelled nationwide. Speakers that had previously done dozens of speeches per year (priced at $25,000 to $75,000 each), suddenly had empty schedules. They had to pivot to virtual events, which paid less.

* Commercial weight loss programs held up well, since the leaders were able to deliver services virtually (Weight Watchers with WW.com, NutriSystem and Medifast/Optavia delivering diet food direct to clients' homes). Revenues for this market rose 6.8% in 2020, to $4.07 billion. However, medical weight loss programs, operating with a mainly in-person MD office/clinic/hospital model, did not fare as well. Revenues here are estimated to have fallen 27%, to $1.27 billion in 2020.
About The Report
The U.S. Market For Self-Improvement Products & Services, published in July 2021, is an independent "off-the-shelf" market research study.  The study is 333 pages in length, with 80 guru and competitor firm profiles and 70+ tables/charts.  It costs $1,895 and is also sold by individual chapters at lower cost.  A free Table of Contents is available by mail or email. Contact: Marketdata LLC,  7210 Wareham Drive, Tampa, FL  33647, (813) 971-8080. John LaRosa is available for interviews and presentations. A 40 pp. Overview of major findings is available to the public for $99,
About Marketdata
Marketdata is an independent market research publisher and consulting firm that has tracked the Self-improvement market since 1994. The firm publishes market and industry studies aboiut a wide variety of service and healthcare sectors, and emerging niche markets. John LaRosa, President, is availble for interviews, consulting, and presentations.
This news content may be integrated into any legitimate news gathering and publishing effort. Linking is permitted.
News Release Distribution and Press Release Distribution Services Provided by WebWire.